ListenUp Audiobooks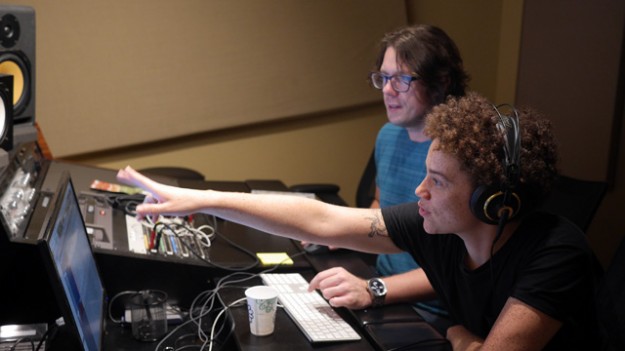 Above: Brendan McGeehan and Alex Barrett record the audiobook Deck the Hallways. 
ListenUp Audiobooks chose Forge Recording to record two audiobooks for the New York Times best-selling Fixer-Upper Mystery series. ListenUp Audiobooks is an award-winning spoken word production company and audiobook publisher with hundreds of published titles.
Alex Barrett narrated author Kate Carlisle's fourth and fifth novels in the Fixer-Upper Mystery series—Deck the Hallways and Eaves of Destruction—in The Academy Studio with audio engineers Brendan McGeehan and Robbie Simmons. The series follows contractor Shannon Hammer who also solves murder mysteries in her coastal California town. You can purchase the highly-rated Deck the Hallways audiobook here, and Eaves of Destruction here.
Alex Barrett, also known by the pseudonym Angela Starling, has recorded numerous audiobooks. "Alex is very talented, very professional and very easy and fun to work with. Her experience shows in both her reading and her interaction with me as the engineer," says Simmons.  Click here to find other audiobooks narrated by Barrett.
Forge Recording's Academy studio is well-suited for voiceovers. The recording booth is comfortable and acoustically tuned for a clean, dry, spoken-word sound; it also allows for a TV hook up which eliminates distracting page-turning noises, and makes a perfect set-up for re-recorded dialogue (known as ADR) for video. Simmons recorded Victoria Laurie's audiobook A Grave Prediction with Elizabeth Michaels here in 2016, and wrestling aficionado Bill Apter recorded the audiobook for his memoir Is Wrestling Fixed? in the Academy Studio.